Philippine real estate, Pristina North, Talamban, Cebu City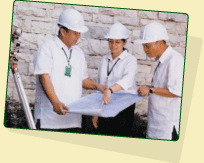 Pristina North was conceptualized and designed by Aboitiz Land, one of the most trusted real estate developers in the Philippines. The Company is engaged in the designing and development of disctinct communities for residential, industrial and commercial uses.
Aboitiz Land is the real estate company of the Aboitiz Group, one of the Philippines' most diversified business conglomerates in power, banking, food, transportation and logistics, real estate development, industrial production, construction and industrial trading. The group has been serving the Filipino people for more than 80 years.
Pristina North's innovative masterplan was designed in cooperation with world class technical and design consultants.
Masterplan by Urbis
An award-winning consultant on Urban design, environment and landscape with over 1000 projects in Hongkong and Southeast Asia since 1977.
Architecture and Landscaping Design by Aurelio & ACL Asia
One of Asia's leading consultants in landscape acrchitecture, established in Hongkong in 1985.
Engineering Design by TCGI
A Manila-based ISO 9001 - 2000 certified consultancy firm, founded in 1973. It has a track record in industrial commercial and infrastructure projects in the Philippines and abroad.
Quantity Servey by Rider Hunt, Liacor, Inc.
An ISO 9001 - 2000 certified company that is part of a global network of Engineering and Construction Consultants specializing in quantity surveying and construction cost control. Rider Hunt Liacor, Inc. has over 80 offices worldwide.